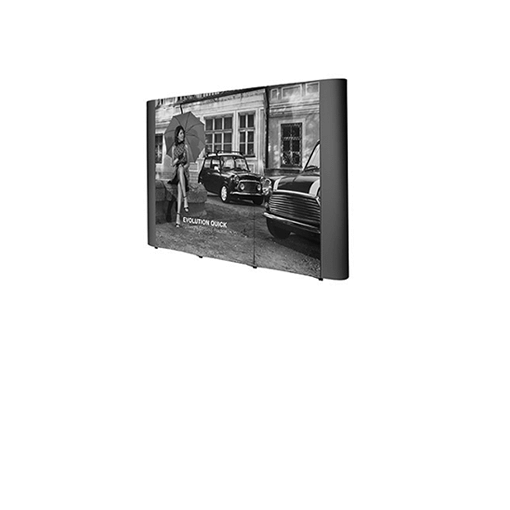 Pop-up Display Stands
Pop up displays – a big display from the back of your car with no hassle. Fresco has the biggest and best range of options. Which one is right for you?  Portability, versatility, durability, high visibility – whatever your priorities, Fresco has the answer.
Classic pop-up
Curved or straight. Both have rounded ends for an impressive 3D look. Five sizes are available – 3×1, 3×2, 3×3, 3×4 or 3×5. This means 3 box sections high x 1, 2, 3, 4 or 5 box sections wide. Full dimensions for each type are given on the product pages. Seamless graphics attach magnetically to a collapsible frame. The classic pop-up has been a firm favourite for 35 years but it is quite bulky though and there are newer alternatives…
Curvorama
About four times more compact than a pop-up when packed, Curvorama is the super-versatile alternative to a classic pop-up. With it's curved ends Curvorama looks just like a pop-up BUT it can also be used as individual drops – just like a banner stand – OR it can be mounted on the walls of an exhibition booth giving continuous graphics. No other display system can do this. With instant joins and instant curves, Curvorama can be enlarged or adapted to any venue.
Embrace
The very latest alternative to a classic pop-up. Much lighter and more compact, fabric graphics are also much less likely to get damaged. They are in fact fully washable! The frame of Embrace is just like a normal pop-up – a spidery lattice with magnetic fixings. But instead of semi-rigid drops, attached with magnetic strips, Embrace uses one giant fabric print. This gives a vibrant, drum-tight, fabric display just like you will see in up-market retail environments.
Formulate
Formulate is quite a radical departure from the classic pop-up. It has some very strong advantages as a backdrop including lightness, compactness and durability. The frame is simpler than a pop-up and lighter. Imagine a long, strong tent pole with right angle bends in it so that it forms a rectangle. Now think of a giant printed fabric bag that stretches over this frame and zips closed. Simple, double-sided, seamless, very effective. Packs into a small bag.
L-shaped pop-up
Just a big, straight classic pop-up with a corner in it. It's that simple really. Why a corner? Pop-ups are often used in exhibition booths and can eat up quite a bit of valuable floor space when they stand in a corner. An L-shaped pop-up solves this problem. Since it can, like all pop-ups, carry graphics on both sides you can also use an L-shaped pop-up to make a room within a room.
Pop-up bundle
A Classic pop-up at a special price with a wheeled carry case that converts to a very useful counter. Bargain. This is the most popular pop-up – an ideal, all-in-one exhibition kit.
Pop-up Counta
More of an add-on than an alternative to a classic pop-up, the Counta is just like a small pop-up with a top on it and shelves in the back.
Pop-up tower
A pop-up but without the middle drops really. Pop-up towers can be an eye-catching alternative to the all-too-familiar classic pop-up shape. The classic pop-up is sometimes a victim of it's own success. At an exhibition, there can be so many pop-ups and banner stands that it is only something different that get's the attention it deserves.
Quality you can trust
Established in 1993, Fresco sells good quality portable exhibition displays at the best possible prices. All our displays are backed up by helpful support. Our pop-up stands are all printed and finished in the UK by Fresco. Our premium quality printing uses the latest print technologies. Fresco can meet the tightest deadlines on exhibition displays with our total in-house capability and wide experience. Fresco's unique and large range of pop-ups offers solutions for everyone.
Fresco is a leading UK supplier of all types of portable display systems and designs and manufactures backdrop display stands such as Curvorama. We do not sell the cheapest pop-up stands as we assume our customers don't go to an exhibition in order to look second rate. Our display stands do not compromise on quality and nor does our display print.
Artwork
Fresco's extremely experienced studio team adapts to your requirements. If you have artwork for your display just drop it into the Upload area on our website and we will check it free of charge to make sure that it will print right and send you a pdf proof. We also supply artwork templates and give advice free of charge. Or, if you have brand resources – logos, images etc – we will artwork them up for you, sending you pdfs until you are happy. This way you can re-use existing artwork.
If you need design from the ground up we are experts at designing for our products. Whichever way suits you, we can save you money and we are of course happy to quote. And as a green and cost-effective alternative Fresco offers a full re-graphic service. We can fit a new print into almost any type of pop-up stand, almost any kind of portable display come to that.
How soon will I get my pop up display?
Our standard lead time is 5 full working days from when we receive print ready artwork. If you need to receive your display quicker than this we can offer an express service at an additional charge of 10% of the price of your order.
Need advice?
Our helpful team of experts is on hand to offer any advice you may need. Please don't hesitate to contact us to let us know the venue you are attending and the size of stand you have. We will be able to make suggestions on which products will work best in your space and offer the most versatility moving forward. Along with our great range of pop up displays, we are also industry leaders in providing shell scheme graphics.
Please contact the Fresco team if you have any questions or need advice, on 01422 246634