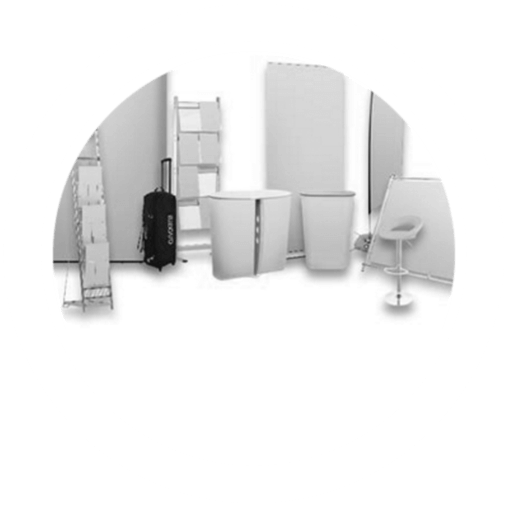 Aluminium frame displays (25)

ALUMINIUM FRAME DISPLAYS - LONG LASTING, STYLISH AND VERSATILE Semi-permanent, modular aluminium frame displays for smart foyer, reception area, showroom, shopping mall or exhibition. Choose cloth, magnetic, translucent or rigid graphics. Special rigid, wheeled cases. Add a table kit, LCD bracket, literature brackets, floodlights, extra panels etc
Portable exhibition displays
Exhibition displays come in a wide range of options. Fabric displays offer a unique and extremely portable option that has many unusual shapes. Aluminium frame displays are classy engineering systems, Curvorama is the most versatile display system in the World. Twist is a very solid, very versatile system with many accessories. Pop-ups are a classic, curvy favourite and folding panels are a tried-and-tested standby.
The widest choice of portable exhibition stands
Established in 1993, Fresco sells good quality portable exhibition displays at the best possible prices. All our displays are backed up by helpful support. Our displays are all printed and finished in the UK by Fresco. Our premium quality exhibition graphics use the latest print technologies. Fresco can meet the tightest deadlines on exhibition displays with our total in-house capability and wide experience. Fresco's range of modular displays offers solutions for everyone.
Fresco is a leading UK supplier of all types of portable display systems and designs and manufactures backdrop display stands and shell scheme liners. Our display stands do not compromise on quality and nor does our display print.
Exhibition displays design service
Send us artwork or take advantage of our very experienced team and use our design service. Alternatively send us resources (logos and so on) and we will artwork them for you – a very cost-effective option. We are flexible and whatever suits you, you will find Fresco responsive, helpful, expert and a pleasure to work with. We offer free technical support for your own designers to produce display artwork that will print perfectly. This helps us and it helps you – your success is our success. Fresco also bends over backwards to make sure your portable display gets delivered on time, every time.
And as a green and cost-effective alternative Fresco offers a full re-graphic service. We can fit a new print to almost any kind of exhibition display.
Please contact the Fresco team if you have any questions or need advice on creating your Exhibition display 01422 886883