Outdoor banner stands
OUTDOOR BANNER STANDS – ROBUST AND WEATHER RESISTANT
Outdoor banner stands are designed to endure wind and rain. Most have hollow bases that can be filled with sand or water.
Although rugged they are surprisingly light to carry.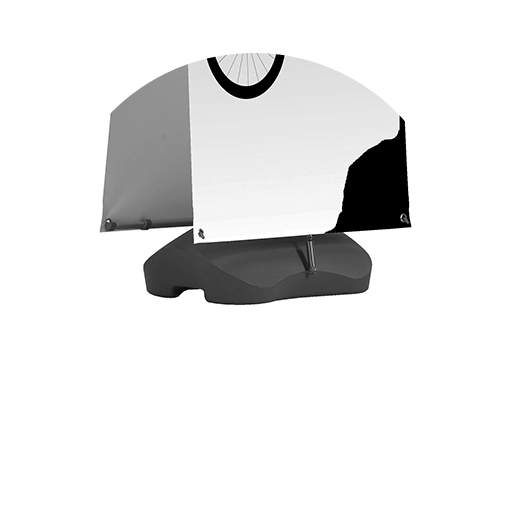 Outdoor banner stands
Outdoor banner stands are sturdy enough to survive out there in the Great British climate.  As you can see, they come in a variety of shapes and sizes.  Many have hollow bases which can be filled with sand or water to weight them down.  Others can be pegged down so as not to blow over.
Established in 1993, Fresco sells good quality banner stands at the best possible prices. All our displays are backed up by helpful support. All of our outdoor banner stands are printed and finished in the UK by Fresco. Our banner stands all come with a carry case. Our premium quality roller banner printing uses the latest print technologies. Fresco can meet the tightest deadlines on exhibition displays with our total in-house capability and wide experience. Fresco's range of roller banner stands, rigid banner stands, cassette banner stands, tension banner stands and outdoor banner stands offers solutions for everyone.
Fresco is a leading UK supplier of all types of portable exhibition displays and designs and manufactures backdrop display stands such as Curvorama which can also be used as a standalone banner stand. We do not sell the very cheapest stands as we assume our customers don't go to an exhibition in order to look second rate. Our display stands do not compromise on quality and nor does our display print. We do all our own colour profiling so you will look your very best.
Artwork support
Should you need design or artwork we are specialists at designing for our products. We can quote for design and offer free advice on setting up your own artwork.
If you are supplying artwork for your display templates are available on request. Drop your artwork files into the Upload Area (top right on any page on our website) and we will check it free of charge and send you a PDF proof.
There is more technical information on our Artwork Support page for setting up in Adobe InDesign, Illustrator and Photoshop.
As a cost-effective alternative Fresco offers a full re-graphic service. We can fit a new print into almost any type of portable banner stand, almost any kind of portable display come to that.
Please contact the Fresco team if you have any questions or need advice on creating your Roller banner exhibition display 01422 246634