Modulate™
The new innovative fabric display system
Modulate™ offers innovative layout solutions that maximise the impact of your display with sublimation printed textile graphics.
Choose your Modulate™ frames from the shapes and sizes on offer and connect them at any angle using the exclusive new MagLink System 360°, to create limitless configurations without tools or connectors.
The fabrics are printed on both sides. Purchase additional new fabrics at any time to use with your existing frame.
The mix and match nature of Modulate™ enables new configurations which can be switched from a simple wall of images to an exhibition stand in a matter of minutes.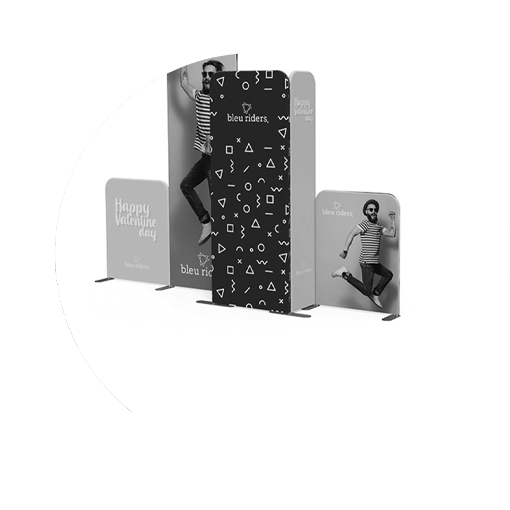 Modulate™
Modulate™ is the fusion of two original concepts, recognised for their success
in the world of retail and exhibitions: Formulate, a range of tubular structures, and Vector modular frames.
Modulate™ consists of a set of frames made from aluminium tubes covered with a printed tension fabric graphic. These frames can be connected together using powerful magnets inside each element.
Based on this simple magnetic principle, the different Modulate™ frames combine to create the perfect configuration for every venue: retail outlets, trade shows, shell schemes, exhibition venues, shopping centre, or in office environments as simple partitioning for meeting areas.
Artwork support
Artwork templates are available in the downloads tab for each product or on request. Just drop your files into the Upload Area (top right on any page on our website) and we will check it free of charge and send you a PDF proof.
You can find more technical information on our Artwork Support page for setting up in Adobe InDesign, Illustrator and Photoshop.
As a greener, cost-effective alternative Fresco offers a full re-graphic service.  We can fit a new print into almost any type of portable display.
Please contact the Fresco team if you have any questions or just need a bit of advice  01422 246634