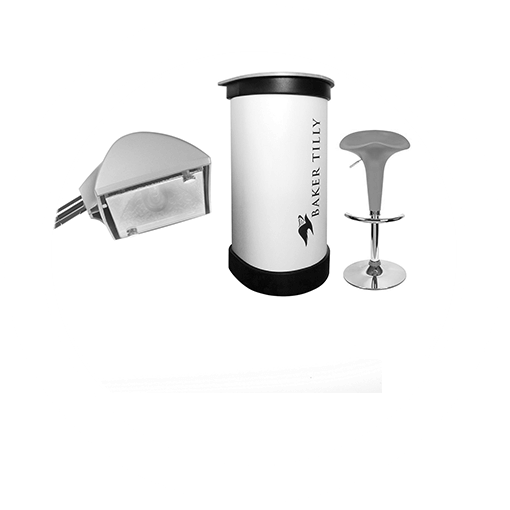 Bags, cases, lights, furniture, accessories..
Furniture, bags and Accessories is a category that includes Counters and workstations as well as plinths and lecterns, lights and guidance systems.
Dependable experience
With 25 years of hard-won experience, Fresco sells tried and tested products at the best possible prices. Our products are all backed up by helpful support and a reassuring guarantee.
The unique Fresco difference
As well as selling a comprehensive range of portable display systems Fresco designs and manufactures display stands and shell scheme liners. Our display stands are complimented by premium display print.
Artwork options
Many of our counters and plinths can carry eye-catching graphics. Send us artwork or take advantage of our design service. Or, just send us resources (logos and so on) and we will artwork them for you. This is a very cost-effective option. Whatever suits you, you will find Fresco a pleasure to work with.
Free technical support
We also offer free technical support for your own designers to produce display artwork that will print perfectly. This helps us and it helps you. Fresco also bends over backwards to make sure your display gets delivered on time, every time.
Please contact the Fresco team if you have any questions or need advice on creating your exhibition display and the accessories you will need to furnish your exhibition booth 01422 886883