30th March 2016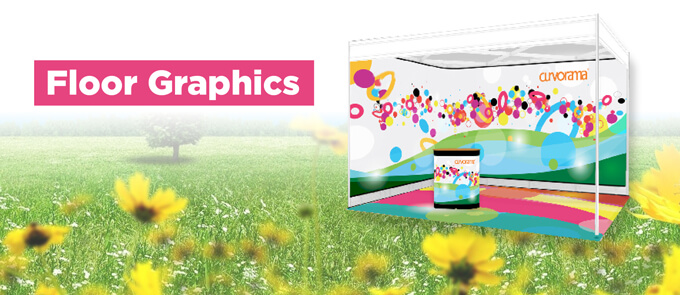 Here at Fresco we want to ensure your exhibition stand looks as stunning as possible, helping you to attract as many potential customers as possible and outshine the competition. We have a great selection of shell scheme graphics that can help you do this. But why stop at the walls? We are now delighted to also be able to offer you our exhibition floor graphics
Flooring graphics are a superb way to put the finishing touches on your exhibition stand and really do separate you from the hundreds of other exhibitors. With your design or branding running all the way through your shell scheme stand you are sure to catch the eye of the passing trade. You also have the option of ordering your floor graphics cut to a specific shape to suit your design.
Flooring graphics from Fresco offer amazing print quality while still being hardwearing, ensuring they will still look great even after 4 days of being trampled on. The non slip graphics have an adhesive on the back to make sure they go down very easily and quickly and stay exactly where you want them.
Our flooring graphics have been designed to be used with any of our great shell scheme displays. You can find out more about our fantastic shell scheme graphics at our very useful shell scheme comparison.
Along with being ideal for use at an exhibition, the floor graphics are also ideal for shops, shopping centres, airport or any other venue you can think of.
products