21st February 2017

PoleFlag flag clamp gets you noticed
A simple flag clamp could make all the difference to your exhibition.  How?  You booked a shell scheme. You decided on your message. You are getting your exhibition display graphics organised but…
You know there are so many other shell scheme booths. You know you need to be found.
You need a signpost
That's where Fresco's PoleFlag flag clamp comes in.  This sturdy little clamp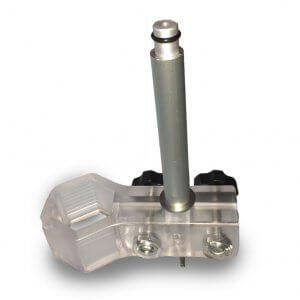 fits tightly and securely around the upright on a standard Octanorm shell scheme.  A flag pole can then be fitted over the spike and bingo! you gained height.
Gain height and save money with a flag clamp
Cavernous exhibition hall roofs are just crying out to be used to draw attention to your stand.  You could use one of our large range of portable hanging structures but you would pay very handsomely for the "drops" from the roof. These of course have to be fitted by the exhibition hall riggers. Why not flag up your stand for a fraction of the cost?
You may well have already seen exhibitors using flags standing on the floor. To get the height you need you will have to use a fairly huge flag which will either eat up part of your stand or get in the way of the aisle (where you are not supposed to leave anything).
Tall flags are expensive. PoleFlag saves you money and keeps the aisle clear. Simple but really effective. Another great idea from those helpful people at Fresco. For advice on banners and flags call us now. Our team is ready to help 01422 886883
products