iPad holders, literature holders
YOUR TIRELESS SALES PERSON
iPad holders are ideal for interacting with potential customers and event attendees.
Literature holders could be a semi-permanent unit in a foyer or showroom or a super-portable unit for an exhibition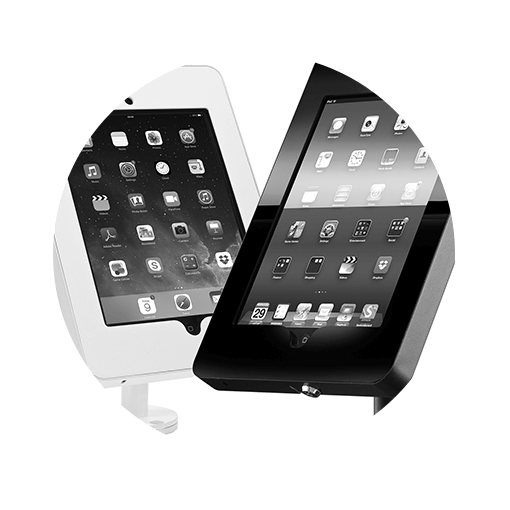 Interactive displays iPad holders
iPad holders are a potent way of interacting with your potential customer. Combined with counters, tables, shelves they are a very natural way of engaging.  Freestanding they can be placed anywhere. Fresco's stylish range of literature holders perform the same function.
Fresco is a leading UK supplier of all types of graphic display systems we design and manufacture backdrop display stands and shell scheme liners. We do not compromise on hardware and print quality and pride ourselves on our excellent customer service and will always be happy to speak to you and advise and support you through the process.
Artwork support
Should you need design or artwork we are specialists at designing for our products.  We can quote for design and offer free advice on setting up your own artwork.
If you are happy to supply artwork for your display (templates are available on request) just drop your files into the Upload Area (top right on any page on our website) and we will check it free of charge and send you a PDF proof.
You can find more technical information on our Artwork Support page for setting up in Adobe InDesign, Illustrator and Photoshop.
As a greener, cost-effective alternative Fresco offers a full re-graphic service.  We can fit a new print into almost any type of portable display.
Please contact the Fresco team if you have any questions or just need a bit of advice  01422 246634